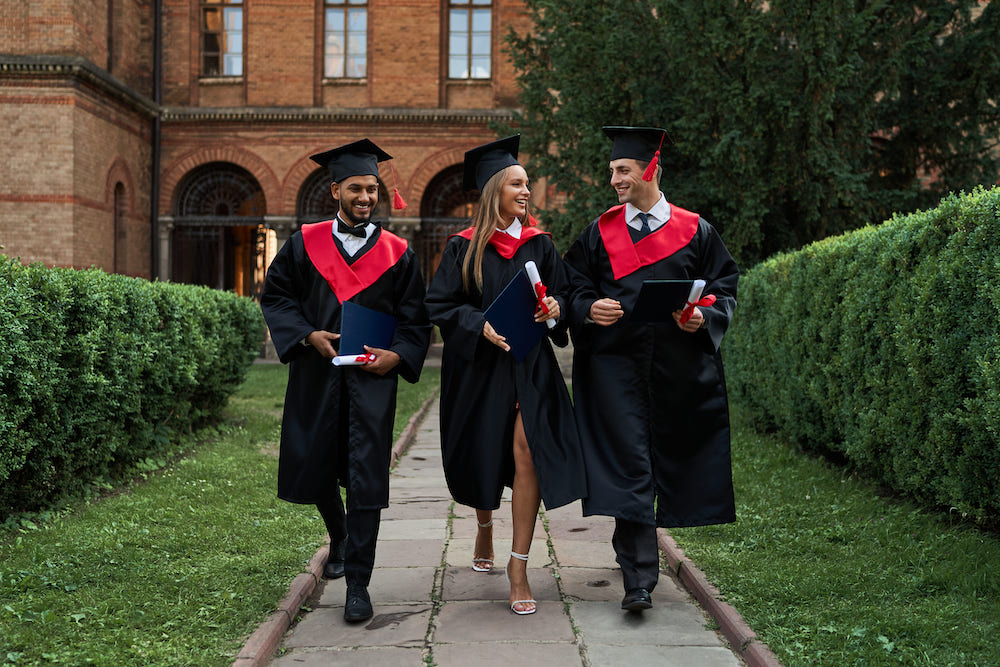 With the USA, UK, Australia, and Canada being the top contenders of the study abroad league, Ireland has one such study destination that has grown into the popular one, and there are plenty of reasons for it. Selecting to study in Ireland can be beneficial for you if you know what you are likely to get from it. So here's highlighting some of the top benefits that will surely impress and may even convince you to choose Ireland as your next study destination.
Education system of class: Irish universities get praised for their excellent education system, which seamlessly combines the best of the worlds in terms of high education standards and research opportunities. The innovative and creative teaching methodology for skill development in their curriculum ensures students have the appropriate academic support to help propel them to success. Whether you want to study literature or any other field, the degree you earn will keep you at the top of the success ladder. 
English used as the medium of Instruction: Language doesn't only hamper communication but also how you perceive education. But in Ireland, language has never been a barrier as most students, locals, and there prefer English for communication. Besides, the medium of instruction in Irish universities is also mostly English. Being and studying in Ireland for Indian students can be more rewarding as they get the best of the education, connect with locals and students, and understand cultures and traditions from a closer eye without being hurdled by linguistic barriers.
You can study in Ireland without IELTS or GRE: You heard it right. While most universities abroad are particular about English proficiency and other entrance tests and have strict guidelines for the same, Ireland universities are permissive in that terms. You may find many Irish universities offering admissions based on academic performance and other alternative tests.
Better chances of Visa Success: Visa rejection is one issue that crushes many students' dreams of studying abroad. Getting your visa approved is indeed a tedious task. When it comes to the visa application for study in Ireland from India, the process isn't that daunting, which can be derived from the fact that the country holds an impressive stat of visa approval of 96%. While it's not common for your visa to get refused, you still need to be cautious about the hows and whats of the visa process and save yourself from being in the brackets of visa rejection.
Affordable Education and Living: When it comes to staying abroad, money often takes stress over excitement. But when you choose to study in Ireland, your financial load gets considerably lessened. Most Ireland universities are state-funded, which means the tuition fees are low. Even though tuition fees vary with universities and courses being taught there, the study in Ireland cost is still comparatively small compared to other countries. Apart from tuition fees, the cost of living in Ireland is impressively affordable and much lower than in the rest of Europe. Typically students spend approximately 800 to 900 EUR per month as part of living expenses.
Ingenious Scientific Research: Apart from literature, Ireland has a rich history in innovation and research. The Irish universities rank among the top 1% in the world rankings for high-quality research in disciplines like science, social science, healthcare, and humanities. By choosing Ireland as their study destination, students can become a part of a research hub and get hands-on learning experience through extensive and innovative research facilities backed by some of the world's best companies.
Work while you study: By choosing to study in Ireland, you can choose to take a job and work while you are still at a college or university. With a student visa, you can work 20 hours per week during the academic session and up to 40 hours per week during breaks. Ireland is a hub of many indigenous and international companies offering a range of opportunities for part-time and full-time jobs. Students can select a job based on skills and preferences and earn some bucks for their studies or traveling expenses. 
Safe, warm, and welcoming abode: If there is one thing of Ireland that sets it apart from the rest (other than its education system) is its people. Irish people are known for their hospitality and how easily they embrace their international guests. Ireland tops as the friendliest and safest country in the world. Being there in Ireland, you will surely get a home away from home experience.
Haven of career opportunities: Ireland being a part of the EU offers incredibly diverse work opportunities to students while studying and post Uni. Ireland is home to many indigenous industries, like Google, Apple, Intel, and alike that demand a skilled workforce. During your study, you can work part-time, and once you complete your study course, you can apply for a post-work visa, stay back and become part of the Emerald Isle giants. 
Europe at hand to explore: A perfect opportunity to unleash the wanderlust in you post your Uni time. When you choose to study in Ireland, do not only get to explore Ireland but also travel and explore the rest of Europe. During weekdays when you have some hours to spare, you can visit the local Irish markets, cafes, and breathtaking landscapes of Ireland. And, during weekends, you can head out, travel, and explore popular European places that are mere hours away from Ireland. 
Ireland may seem like a tiny land compared to the United States or Canada, but it's a bustling country with opportunities and experiences like no other. It's safe and affordable and boasts excellent education and career opportunities. Whatever you seek from a study abroad destination, it's there in this Emerald Isle. Ready to get started with your preparation? Contact Vision International Ireland study counselor to plan your steps and kickstart a successful journey toward studying abroad in Ireland.