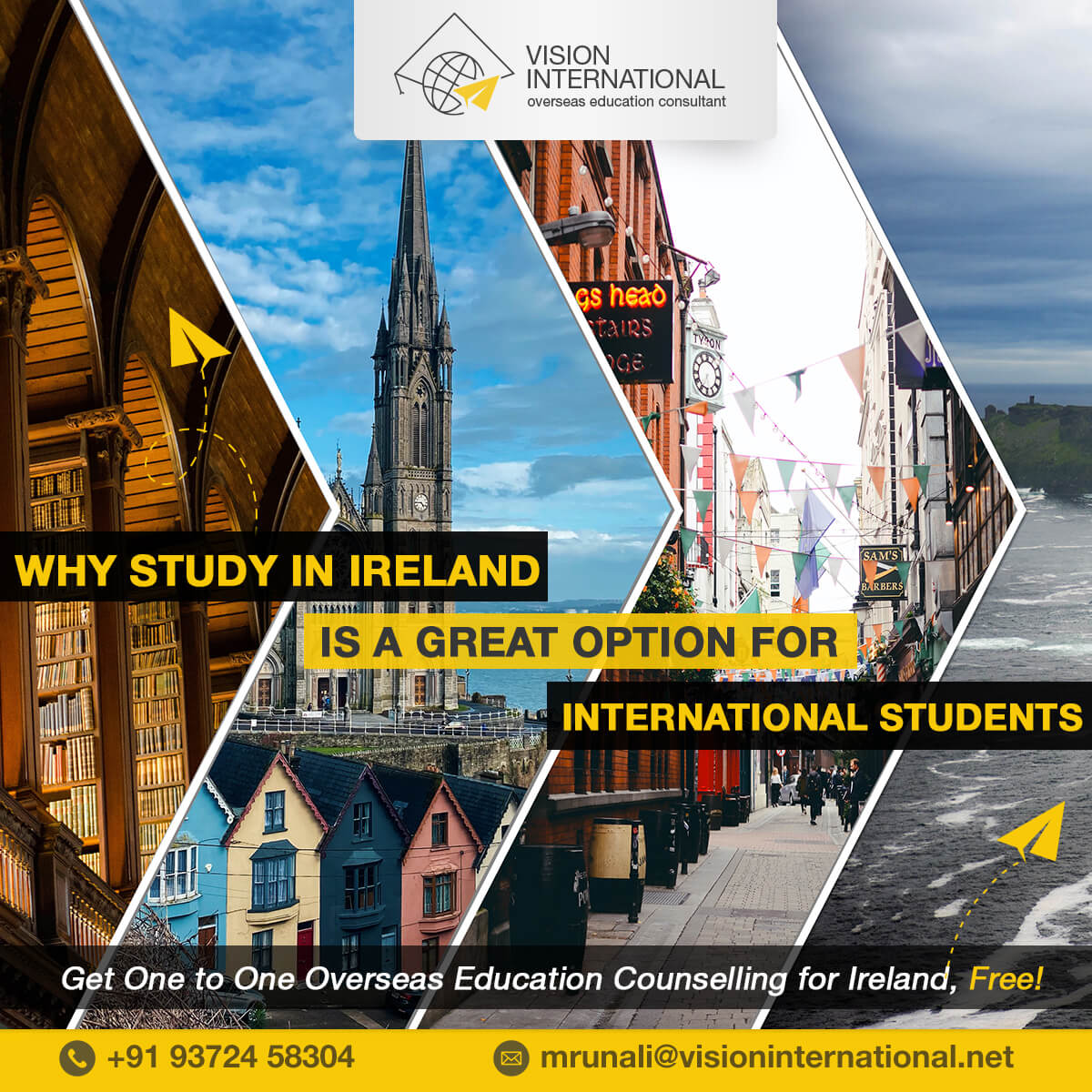 Coined by the name Emerald Isle, Ireland is the perfect place for international students, ranked among the top education providers in the world. Apart from being a friendly foreign land to study and grow. It is also an exciting and culturally rich nation that encompasses beautiful coastlines, gorgeous and well-known lakes, green landscapes, and wild mountains. Ireland is probably one of those dynamic, inspiring, adventurous countries that attract the most ambitious young people and compel them to consult Ireland education consultants to reach and study in Ireland. Here are just some of the many reasons to answer that underlying question 'why study in Ireland?'
One of the best education systems: Education is one of the factors that made Ireland the fastest growing economy in the world. The Irish education system holds the highest regard in Europe because of the features like creativity, flexibility, and the pragmatism that one gets to witness while studying there. Besides, Irish universities have close links to many indigenous industries, an excellent opportunity for students to work as graduates, undergraduates in part-time or full-time jobs.
Strong and customized study programs: Many Irish institutions for higher education are internationally ranked, wherein more than 5000+ graduate, undergraduate, master's and PhD study programs are available in study areas like medicine, science & technology, engineering, business, banking law, literature, philosophy, psychology, etc.
High-quality Scientific Research: Ireland finds its name among the top 1% research institutions in the world. It is an international hub of high-quality research work wherein the best companies have set up top-notch research facilities. Little wonder when overseas education consultancy and international students, including Indians, select to study and research in Ireland.
Rich English literature: If you are into literature and things, you will be glad to know that Ireland is a land of authors like Yeats and Shaw. As a result, one could find some of the best English Literature degrees in Ireland universities. At the library of Trinity College Dublin, you can find the most famous and significant books of all time, such as the millennial, medieval-era Book of Kells.
The rich Irish culture you don't want to miss: Ireland is home to some well-known museums and art galleries, surrounded by lots of small cozy pubs and restaurants serving gourmet food, aromatic coffee, a one-of-a-kind experience that connects you with the rich Irish culture.
Home to leading global MNCs: Ireland is home to various indigenous leading, global MNCs in Information & communications technology, Social Media, Pharmaceuticals, and Finance such as Microsoft, Google, Apple, Facebook, Linkedin, CRH, Pfizer, GSK, and Genzyme have made Ireland their main office for European operations.
High employability: When you study a program from an Irish University, your degree is held high in the world. All because of the education, training, and skills the students acquire during the study programs of international standards. Again, one of the reasons for international students pouring in to pursue higher education here.
Safe and friendly community: If one could define Ireland in a sentence, it would be: tiny land with big hearts, which is one of the enriching experiences for the students wishing to study here. Irish people are known for being most hospitable and friendly towards tourists and international students. No wonder why international students adapt smoothly to their new life as a student in Ireland
You can work while studying: The best thing about studying in Ireland is students can work for 20 hours per week during the academic session and 40 hours per week during holidays. So, whether you want to fund your education abroad or add a few bucks to explore this Emerald Isle, having such an opportunity adds another feather in many pros of studying abroad.
Proximity with the rest of Europe: One of the pros of university advantages of studying in Europe is that it's relatively easy to travel and explore from one country to another. You can utilize this opportunity by taking a long weekend, traveling, and exploring Europe. Or, you can stay back and enjoy the richness of Irish culture, breathtaking scenery, and talking and interacting with friendly Irish people.
Affordable cost of living: The cost of living in Ireland is actually lower than in the rest of Europe. A student spends nearly 850 to 1000 EUR per month on living costs. However, it can vary with the university you want to study in, the type of accommodation you prefer, and your lifestyle.
Ireland opens you to the world of opportunities to enjoy an unusual mix of high education standards combined with an exhilarating cultural experience. From attending top schools to traveling to nearby countries & Europe and experiencing all the history and beautiful scenic views that this charming tiny country offers, you get all when you choose to study abroad in Ireland. Ready to put your step forward in planning study in Ireland? Contact Vision International, the best Ireland education consultant to book your free appointment and get yourself covered with all the customized services such as career counseling, university shortlisting, exam preparation, applications, visa application, and scholarships for study abroad in Ireland under one roof.