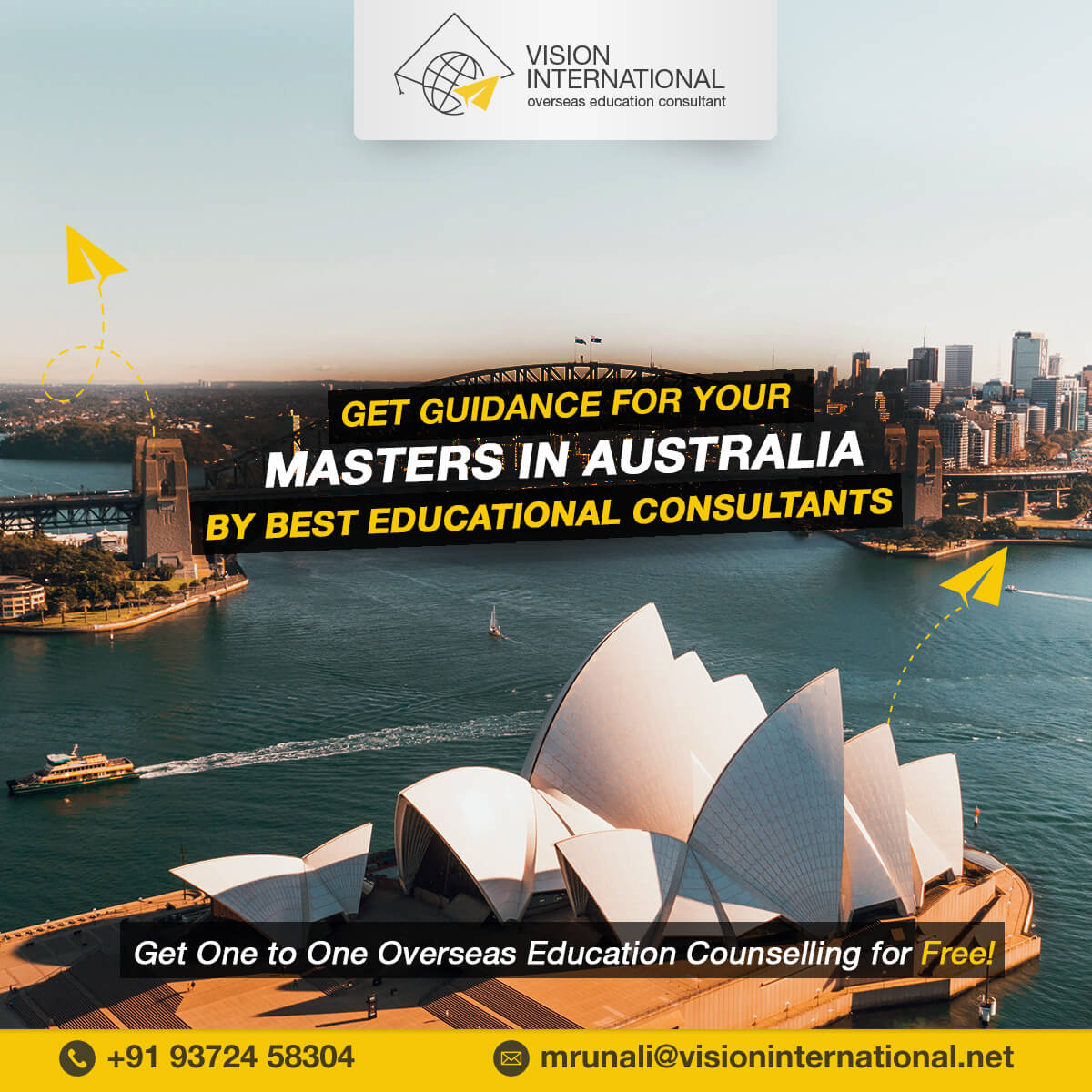 Australia is one of the best countries to travel, live, study, and work in as an international student. Its education system sits atop across the world reflects quality, excellence, and innovation. The Australian universities offer excellent infrastructure, research opportunities, and hands-on training to international students. One can find a wide range of specialist institutions with the most popular study programs in Business, Information Technology, Engineering, and Hospitality, making it the third most popular study abroad destination.
If you want to pursue a master's degree in Australia and have started research from your end for the same, you must have known the challenges of finding affordable yet best colleges in Australia. Consulting abroad study consultants like Vision International can help you save from this task.
With more than eight years of experience & 2500+ Success Stories to speak about, Vision International has been transforming students into the most recognized professionals globally, one of the reasons for it becoming the leading Australian Education Consultants in Mumbai. With a focus to make your study abroad easier and convenient, they provide a one-stop solution to various aspects of abroad studies preparation under one service suite that extends right from scholarships, financial aid, travel arrangements, and pre-departure counseling.
Here is what you are likely to gain when Vision International is your trusted study abroad consultant.
Profile evaluation and career counseling:
The Vision International team helps you choose the right career path based on your profile to help you succeed. A systematic approach is designed that begins with screening your academic qualification, English proficiency level, and financial background to identify the best possibilities that fit your needs. At this point, you will get to know about different available courses, the best universities or programs that will be suitable for you, tests you have to appear in, and other qualifications required so you can timely secure a position in the university of your choice.
University Shortlisting & Selection:
University selection is a tedious process. While some students are clear about the universe they want to seek admission to, others get lost in the options. Here consulting experts cover you in this aspect as they help you pick the university to pursue a master's education in line with your career goals. Along with this, you get an estimate of the tuition fees, visa and accommodation charges, and relevant information about your chosen university or country so you can select the best of the options within your budget range.
Test preparation: The language proficiency test is considered the stepping stone of studying abroad. Vision International understands the importance of test preparation and meaning for students and thus provides excellent test preparation services for IELTS, PTE, and TOEFL. The teachers and instructors with years of experience identify your strengths and weaknesses and guide you to a higher score to increase your chances of getting scholarships and being accepted to the best Australian University of your choice.
Scholarship assistance: Vision International team has strong associations with various top universities in Australia. They look for universities on your behalf and help you with scholarships provided by the universities of your choice, based on your career choices, academic and financial background.
Visa Assistance:
Once you receive the confirmation from your desired college or university, the team starts the visa application process with accurate information and necessary documents based on the type of student visa you require. Filling out the correct forms to submitting supporting papers are all taken care of by them. Many procedures such as scheduling biometrics, visiting the visa application center, and scheduling doctor's appointments are arranged for you in advance to help you complete the formalities on time without any worries about the deadlines.
Education loan Assistance:
Studying abroad is a costly affair. To get admission to a study program, one requires a large sum of money. You may need to bear various expenses like food, accommodation, travel, stationery, etc., apart from the college tuition fees. Consulting Vision International can be a massive help who put their valuable resources to help you secure your financial aid in the form of scholarships or education loans.
Travel Assistance:
Traveling abroad requires advanced preparation to get the most cost-effective route. At Vision International, you not only get assistance with admissions and related processes but are well prepared right from the moment you receive your offer letter to accommodation. You get assisted with flight bookings in advance that allow you to select ideal departure dates, get routes, and best discounts. The consultants also advise you on many issues such as currency exchange options, lifestyle changes, financial planning, etc.
Pre-departure sessions:
Visiting and studying a foreign country can be stressful for the students, especially if they are traveling for the first time. There are also pre-departure sessions for students and parents that are organized with an intention to ease the initial days of students in the distant land and help them avoid/minimize culture shock. It involves group sessions that cover various queries and aspects of organizing travel, stay and culture, accommodation, airport pick, etc.
Studying abroad in Australia is a dream that is not as easy to accomplish as it comes with many challenges and spontaneous situations. By taking guidance from the right consultant, you know your chances of being accepted in your preferred university increase tremendously. Get started with Vision International, one of the most reputed and experienced consultancies, and let the personalized assistance take you to the steps to reach your dream destination.