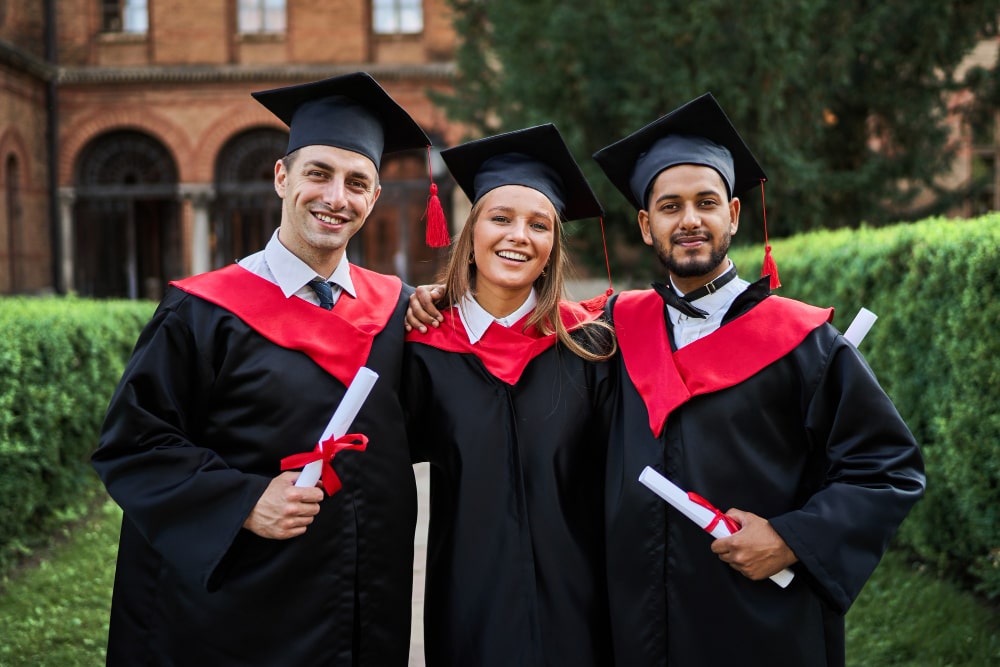 Is studying abroad MS or MBA in the USA on your mind, but not sure of the know-how of the application process? We get your despair. While it's easier to gather info about the application process to study in the USA, sometimes it's challenging to bring it all and put it into action.
If you are the one confused about the application part for postgraduate degrees like MS or MBA, this guide will help take the lead with the process. It has everything you need to start your MS & MBA admission process and finish it successfully. Read on to get started.
Decide on the course you want to study: Your preference for a particular program decides which university you will choose and its application process. The US universities offer a wide range of courses in various study fields for MBA and MS. To select one of your own, you must get a clear understanding of the areas of specialization, especially if you are unclear about what course you want to pursue.
If you are going for an MS degree, here are the top specialization fields in the USA based on demand and career prospects.
Computer Science & Engineering
IT & Networking
Embedded systems
Life Sciences
Mechanical Engineering
Wireless Communications
Mathematics
Game designing & development
Engineering & others
For MBA, the popular specialization areas available in the USA are 
General management
Consulting
Strategy
Finance
Information management
Marketing
Operations management
IT/Technology management
You can also consult the study abroad consultants to get the best course options based on your career goals.
Shortlist universities in line with the study course you want to pursue: Once done evaluating study courses available for MS & MBA in the USA for Indian students, it's time to find the best universities offering the particular course. Some factors you can consider evaluating universities are their ranking, tuition fees, eligibility criteria, location, and others. You can make the shortlisting process easier by reaching out to overseas education consultants.
Some of the Top US Universities for MS degrees
MIT
Stanford University
Harvard University
California Institute of Technology
University of Chicago
Princeton University
University of Pennsylvania
Yale University
Cornell University
Columbia University
Some of the top US  universities for MBA degree
Stanford Graduate Business School
University of Pennsylvania, Wharton
Harvard Business School
University of Chicago, Booth
MIT, Sloan
University of California Berkeley, Haas
Columbia Business School
Yale School of Management
Northwestern University, Kellogg
Dartmouth College, Tuck
Confirm the eligibility criteria of the selected universities: Before going ahead with the admission process, don't forget to check the eligibility criteria for MS and MBA courses to save yourself from the despair of end-moment rejection. Different universities have different set eligibility criteria that you would need to fulfill to secure your admission. Check the university's requirement list for the same. Some of the basic requirements include,
For MS degrees:
The candidate must have a bachelor's degree from a recognized university
Proof of English proficiency through IELTS, TOEFL, or PTE test scores
GRE score of 290 & above
For MBA degree:
The candidate must have a bachelor's from a recognized university
GMAT scores over 600
Proof of English proficiency through either TOEFL or IELTS test scores
Some universities also require proof of work experience too
Check the deadlines for application: US universities have three intakes in a year, Fall, Spring, and Summer. However, Fall and Spring are major ones, with few colleges offering admission in summer. Deadlines vary with universities, so you would have to keep a tab on the application deadlines of respective universities for the course you want to study. Check their respective websites or contact individual departments to know the details regarding the dates. Most applications start in September and remain open until January next year. Some universities also offer early admission, regular admission, and rolling admission facilities that you can confirm by contacting the university's admission panel.
Appear for standardized tests: To get to a US university, you need to get your test scores in place. Check the universities' test and score criteria and prepare for tests accordingly. Make sure to schedule your test as soon as possible to spare sufficient time to score and complete the admission process. Ideally, you should book your test slot six months before the test date and appear at least three months before the start of the course. Most US universities require average scores for MS and MBA.

Here are some popular tests recognized by US universities:
GRE: There are two types of GRE tests available for the candidates to choose from: the GRE General Test and the GRE Subject Test. GRE General Test evaluates a candidate's eligibility based on their analytical writing, quantitative ability, and verbal reasoning skills, whereas GRE Subject Test assesses candidates' knowledge of a particular subject. Indian students seeking admission to postgraduate courses for Masters and MBA can appear for the GRE General Test. Candidates can take the test 5 times a year, and the score for the same remains valid for up to 5 years.
GMAT (for MBA): GMAT (Graduate Management Admission Test) is a standardized exam well accepted by US business schools. The test assesses the candidate's skills & problem-solving abilities on topics such as basic arithmetic, algebra, geometry, data analysis, and grammar. A high GMAT score will stand you out during the application process. If you want to pursue an MBA program, you would need a GMAT score for your business school application. You can check the eligibility criteria of the university you are interested in before taking the test. The GMAT score stays valid for five years. You can reappear in this test 5 times a year as per your wish.
TOEFL: It is one of the highly recognized and well-accepted tests by US universities. TOEFL test content is generally academic, which tests your English proficiency based on your listening, speaking, and reading skills. A minimum of 90-100 overall score is considered good and required by most universities. For MS, many top US universities offer admission on a minimum of 85-90 overall TOEFL test scores. To be eligible for MBA study programs in the USA, you need a minimum score of 90-110. However, the scoring criteria vary with universities. Also, scoring for TOEFL iBT (internet-based) and TOEFL PBT (paper-based tests) are different, so you must confirm them before appearing for the exam.
IELTS: It is again one of the well-accepted English proficiency tests for higher learning among American Universities. IELTS tests candidates' English proficiency on various levels and grants scores accordingly. Two versions of the IELTS exam are available for students to opt from, Academic and General Training. The academic module is dedicated to Indian students for undergraduate & postgraduate courses in the USA, whereas general training is a prerequisite for vocational courses.
Gather important application documents: There are certain MS & MBA requirements in the USA that students will be required to present to the university as documents as part of the application process. It would include:
Academic qualifications documents: Include details related to your previous qualifications and scores for the same. The transcripts must be well documented and in the English language.
Statement of purpose (SOP): One of the essentials of the application process when applying for an MS or MBA. It's more like a cover letter that US universities require to know your intent to study abroad. An SOP basically defines who you are, what you want to study in a particular course in the US and the specific university, what are your interests & goals, how you can be a good match for the program, and what you want to achieve through this program & more. The more effort you put into drafting a strong SOP, the more you attract the chances of getting selected into the top US universities.
Letter of recommendation (LOR): A recommendation document or reference letter from a past employer or professor indicating your capacities, skills, and strengths in your work or academics and what contributions you can make to your chosen field of study. For both MS and MBA courses, you would need a minimum of 2-3 letters of recommendation.
Resume/CV: Many postgraduate programs such as MS and MBA require a resume as they demand prior work experience. So you would need to attach a copy of your updated resume indicating your work experience, qualifications, and other achievements, along with other application documents.
Proof of funds (POF): Some US universities may ask for POF once offering admission confirmation. POF is essentially proof of finances indicating that you can bear your expenses while studying in the US. POF can be bank statements from the parents or legal guardians of the candidate.
Start applying to the universities of your choice: After completing the above processes, it's time to apply for MS and MBA in the USA from India. Visit the official websites of your shortlisted universities and start the application process by filling out the required information. Upload the required documents. You may also need to attach additional documents if you want to apply for scholarships at the university. Once the documents are submitted, you can pay the fee.
*Before applying, connect with the university and get all your doubts cleared related to tuition fees, accommodation, placement opportunities, and more.
Keep a check on the status of your application to the university: The acceptance letter is usually sent to you via mail or post. However, not all US universities follow the standard approach of sending a response to your application. You may need to check with the university whether your application has been accepted or rejected.
Confirm your acceptance and complete further admission formalities: After you receive a confirmation letter from the university, you have to confirm your interest in the same. Once done, book your accommodation & deposit the money and complete the related formalities.
Start your visa application process: The last step of the application for a master's or MBA degree in the USA is to apply for a Visa. To pursue a full-time postgraduate degree as an Indian in the USA, you would need an F-1 visa, which will allow you to stay up to 60 days post-completion of your program.

We hope these steps will help you get through the application process for MS or MBA in the USA in a better way. Want more specifics on the application process? Book your appointment with overseas education consultants at Vision International today!