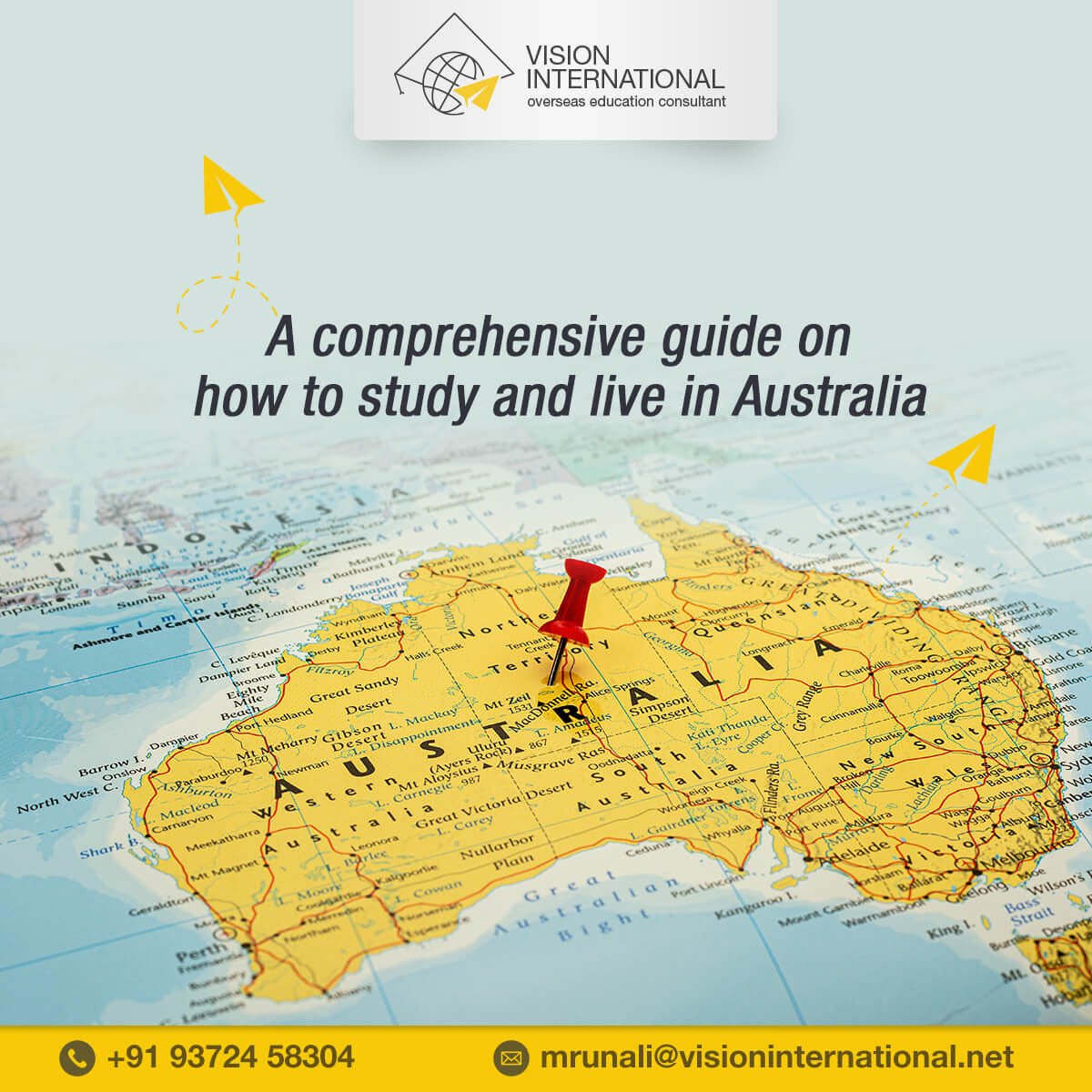 Have you finally made up your mind to study at an Australian university? Great!! But, before you begin your journey as an international student in this beautiful island nation, there is a lot to know about as you may find yourself in a bind or facing some surprises once you're abroad. Here sharing a comprehensive guide that will help clear your queries giving you an insight into student life in Australia, from studying costs to living to entertainment and more.
Know the education System:
Studying in Australia introduces you to new experiences and high-quality education. Australia ranks 3rd in the world for giving a large number of admission to international students. When you choose to study abroad, Australia is one such destination to give internationally recognized qualifications that hold the capability to attract vast employment prospects. The Australian Education system is 3-tiered, which is as follows
Primary School: It starts from Kindergarten and lasts up to years 6-7.
Secondary School: It starts from 7-8 years and runs for 3-4 years which means up to 10.
Senior Secondary School: It runs for two years, 11 & 12.
Tertiary Education: It includes higher education as well as vocational education and training (VET)
Australian Qualification Framework (AQF) is the standout of Australian education. AQF unifies tertiary education into one national system and has 10 levels that represent various qualifications.
Level 1: Certificate I
Level 2: Certificate II
Level 3: Certificate III
Level 4: Certificate IV
Level 5: Diploma
Level 6: Advanced diploma, Associate degree
Level 7: Bachelor degree
Level 8: Graduate certifications, graduate diplomas, and honors degrees
Level 9: Master's degree
Level 10: Doctorate
Top Australian Universities
Australia is a preferred study destination for many reasons, one being the education system facilitated by Australian universities. Apart from academics, students get a hand on experience of real-world scenarios that kindles their inner critical thinking, problem-solving, interpersonal understanding, and communication abilities and help them stand apart. No wonder why seven Australian universities stand top among the 100 universities in the world.
University of Melbourne
University of Sydney
Australian National University
University of Queensland
Monash University
University of New South Wales
University of New South Wales
University of Adelaide
Macquarie University
University of Newcastle
Top Study Programs
Health and Science
Business and Management
Law
Medicines
Arts and Design
Education and Teaching
Accounting
Engineering
Computer Science and IT
Engineering and management
Academic intakes
Australian colleges and universities offer two primary intakes or semesters.
February Intake: It is a considered main intake of the Australian universities for the maximum number of courses.
July Intake: Limited number of Universities are open for this intake, with a limited number of courses
There are also September and November intakes, but very few courses are available at this time. The intakes for vocational programs start in January, May, or July that can vary upon the course and university.
Prepare for the exams to study in Australia:
When you choose to study abroad in Australia, you may be required to show proof of your English Proficiency skills through a standardized exam to get admission to foreign universities. There are various language proficiency exams available. Each of them holds significance to different nations. Some of the popular tests are:
IELTS is one of the well-accepted English proficiency tests among Australian Universities. The IELTS test scores are beneficial for both academic purposes and visas. The minimum IELTS score requirement for admission is 6.5, with no band below 6.0. The score requirements vary with the universities. For visa purposes, you need to have a minimum of 5.5 overall scores.
TOEFL is also one of the most accepted and recognized tests among universities around the world. TOEFL test content is generally 100% academic, with a minimum score of 90 is required by most universities. While the TOEFL iBTTM is an internet-based test, a Paper-based Test or TOEFL PBT is also available in places where the internet-based test is not possible to conduct.
Pearson Test of English test score is accepted in more than 150 institutions in Australia. It's a computer-based exam conducted across various centers. The PTE exam tests a candidate's knowledge based on four skills: reading, writing, speaking, and listening. A score of 75-80 is considered competitive for admission.
Cambridge Advanced English (CAE)
The Cambridge Advanced English test regulated by the University of Cambridge is a paper and computer-based test that comprises five papers: reading, writing, speaking, listening, and usage of English to test the student's command over the English language. A score of 60-80 is considered good and above 80 outstanding.
Scholarships can help lessen your expenses:
There are various scholarships available for Indian students that are government, public, and institution-specific. You can check eligibility criteria and guidelines on their official websites before applying to any university in Australia. Australia Education consultants can also help you find suitable scholarships according to your academics & other qualifications.
Australian Government Research and Training Program (AGRTP)
This scholarship is valid to both international and local students studying research doctorate and masters' degrees. An amount of $28,092 per year gets awarded as a part of the scholarship.
Australian Award Scholarship
The student should be enrolled in UG, PG, Ph.D., or Vocational & Training courses of the participating universities/ TAFE institutions. It covers your tuition fees, travel expenses (return), some living expenses, and overseas health.
International Postgraduate Research Scholarships (IPRS)
A student should be enrolled in research-based PG or Doctoral programs. It covers the tuition fees and health care costs.
These are the few government-funded scholarships. You may also find various scholarships that universities and colleges individually offer.
Secure your Visa for Australia:
If you are visiting Australia as an international student, you would need a student subclass 500 visa, irrespective of your course. It will allow you a stay up of 5 years and costs around AUD 630 and an additional AUD 470 (if 18 and above) or AUD 155 (if under 18).
Documents and things you would need for a visa
A valid passport
You should be enrolled in an Australian course and have proof of the dame.
Proof of your English proficiency skills like IELTS test scores and other
Genuine Temporary Entrant (GTE) statement if you are planning a full-time course in Australia
Evidence of finances ensuring that you can bear the expenses.
Health insurance policy documents, if any
Academic and work experience certificates
Statement of purpose
Meet the character and health requirements.
Budget your living expenses:
Studying in a foreign land can turn out to be more expensive than one can imagine. Panning your budget can help smartly allocate the finances. Your main expenditure would be the tuition fee that will cost you around AUD 20,000-30,000 a year. If you score any scholarship, your expenses will lessen further. Then comes the accommodation and the living expenses. An international student spends between AUD 1,400-2,500 AUD a month. Keeping a check on these expenses will help you find savings considerably.
Find an Accommodation:
Most universities in Australia provide on-campus residence facilities to international students that cost nearly AUD 110-280 per week. Else, you can go for off-campus accommodation, wherein you can rent an apartment and share with other students from India or live with a local Australian family. The rent is usually paid every two weeks in advance and costs you about AUD 185-440 a week. Remember, the rental amount will vary from the city you choose to say in.
Travel and experience the Aussie culture:
Australia is home to beautiful and appealing beaches and places to visit off from the Uni. A simple Google search will open up the possibilities from golden beaches to Opera House in Sydney to world-class national galleries and museums to markets that you may find worth exploring on weekends. Share a rental car with a group of friends or book cheap domestic flights for affordable travel.
Australia is also a hub of different cultures and traditions that you want to experience. Befriending with locals can help you see Australia from a broader perspective and understand the nuances of their culture.
Studying abroad as an international student, you get to live, develop, and learn in a country brimming with opportunities. When you choose to study in Australia, every experience you gain matters & contributes to your future. We hope these insider tips will help you prepare and experience Australia in a better way. Want more specifics on the preparation, book your one-on-one consultation with Vision International today!