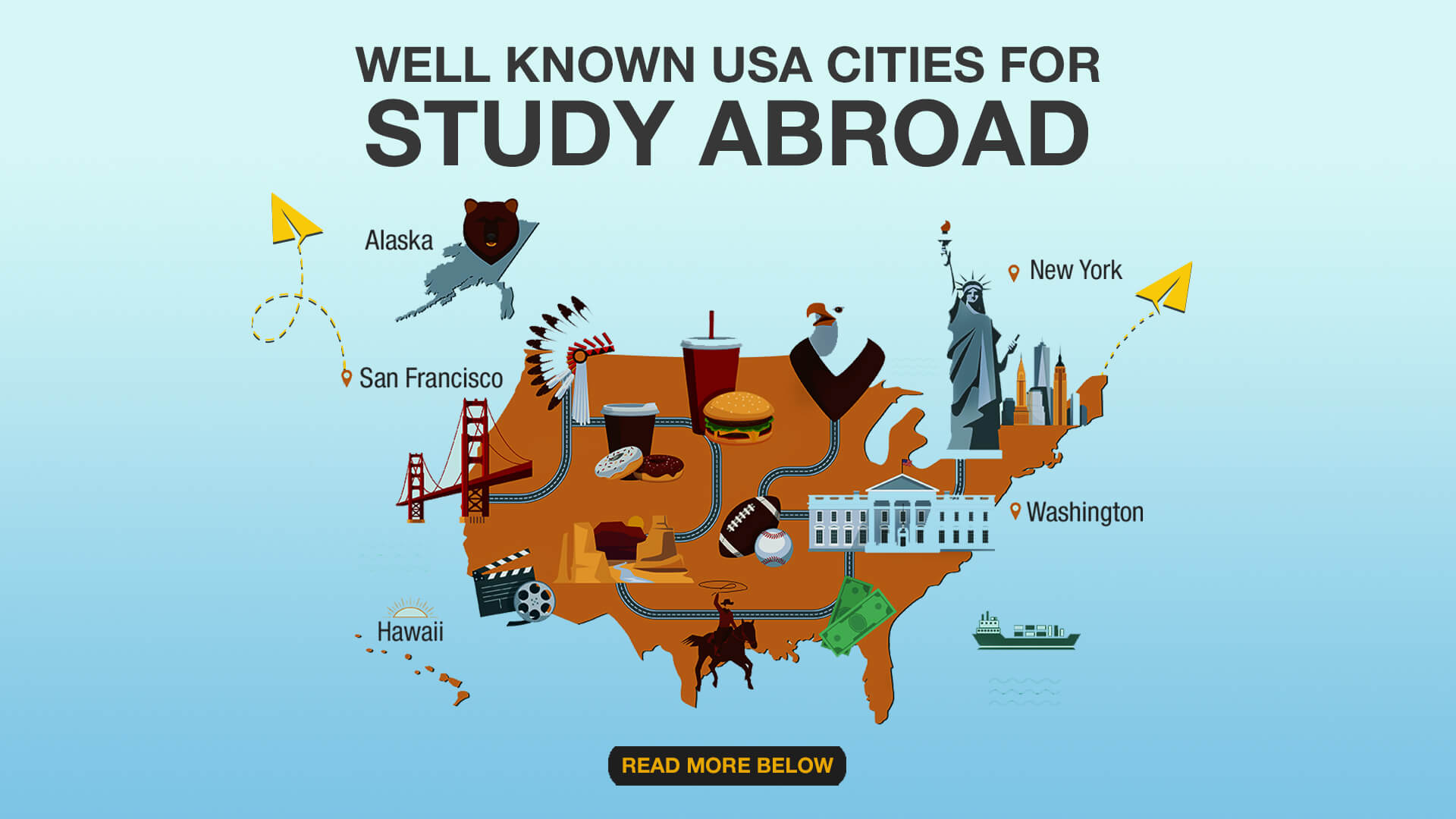 The USA is one of the top picks for higher education for students all around the globe. It not only offers quality education but also some of the best facilities and faculties on its campus. The number of international students at U.S. universities dropped by 15% from 1,075,496 in the academic year of 2019-2020 while still welcoming 914,095 in the academic year 2020-2021, keeping in mind that this was when the pandemic was still a threat.
Even though no US cities made it on the top 10 best student cities worldwide, the country does contribute to the highest number of entries overall. An impressive 11 cities are listed among the top 75 cities, a testament to a large number of excellent universities and exciting locations that the country has to offer.
Why study in the USA?
A wide range of subjects
While computer science, engineering, and business might be the most famous fields of study that people opt for in the United States, there is a lot more to offer, like political science, international relations, psychology, health sciences, and international law to name a few. The US not only has a lot of options to choose from when it comes to its range of subjects and specializations, but it also has the facilities and faculties to back it up.
Not much of a cultural shock
Environmentally speaking, masters in USA for Indian students wouldn't be as difficult from a social standpoint as they would feel right at home in the States. America has always welcomed people of different cultures and continues to do so. This means that you will be surrounded by different types of people constantly and get accustomed to it pretty quickly.
Its effect on your personality
Taking the initiative to live in a foreign country not only shows motivation and flexibility but also makes you more confident and outgoing compared to those who have never lived abroad. Not only does it make you more independent but also improves your English language skills, both of which help you socialize and interact with different cultures. This will eventually improve your social skills enough for you to adjust and be comfortable around different people in no time. Social skills are just as important as academic skills later in life.
Guaranteed success on the career front post-graduation
While living in the US will make you more comfortable while interacting with diverse people, it will also give you the ability to analyze certain issues with a global perspective, making you more adaptable in the global market. Now more than ever, there is a high demand for employees who speak multiple languages, are quick to adapt to different professional environments, and hold international experiences, all making you a very promising candidate. You will be seen as a candidate with an international mindset, someone with multiple or diverse cultural experiences, and great problem-solving abilities.
Below are the top student cities in the US
Boston
If you aim to be around the world's best and brightest peers and academics, then Boston is the best choice for you – especially if you include the nearby student-centric town of Cambridge, which happen to be the home of the famous Massachusetts Institute of Technology (MIT) and Harvard University, standing at first and second place in the academic year 2015-16 globally. Boston is also home to other five universities which lie in the top 400. The Boston area is well known for arts and culture, more specifically, when it comes to contemporary classical music. The environment there is not about all about academia and competitiveness as the city is also famous for its pubs and bars, as well as its liking towards for sports.
New York
The famous 'The Big Apple' and 'The City That Never Sleeps', New York City, ranked 20th in the best student cities, is at times called the 'Capital of the World'. Few other cities manage to have as many quick associations, be it the skyscrapers, the legendary music, and fashion scenes, the bright lights, and charm of Broadway, or the famous delis and delicious street food. New York, therefore, places 5th in the 'university rankings' category of the best student cities, just beating Boston. New York has the best ranking out of all US cities for students, offering a pricey but high quality of life.
Chicago
A fast-paced, high-rise economic hub, Chicago is also a city that famously knows how to be lively and have fun. Chicago remains well known as where blues and jazz music was born during the 20th century. The city is also home to two of the world's most respected universities, the University of Chicago (ranked 10th in the world), and Northwestern University (32nd).
New Jersey
New Jersey is one of the most perfect places for students who wish to pursue their professional dreams and goals. With an economy primarily focused on pharmaceuticals, chemical development, telecommunications, and food science, this is a very ideal location for international scholars to study, live, as well as connect with their educational goals and ambitions.
Arizona
Set against an elaborate dramatic mountain backdrop, Phoenix enjoys its southwestern heritage – cowboys, cacti, steak, and country-western music – but at the same time, it is also very much a modern, multicultural blend of things. The city has a large Hispanic population, so Mexican culture and cuisine play a large part in its modern identity. The University of Arizona, based in Tucson, ranked 163 in the world university rankings for the academic year 2011-12. It is home to almost 40,000 students, including nearly 30,000 undergraduates.
Florida
Popular for its theme parks like the famous Disney World, sunny weather, long stretches of beaches, nightlife, and the arts scene, Florida is a hugely popular holiday destination – and it's more than that, a great place to be a student. The University of Florida is the highest-ranked among universities from Florida, currently ranking 180th in the world and 46th in the US alone. The school is home to just under 50,000 students, out of which, 16,000 are postgraduates pursuing their higher education. Another top university that the state has to offer is the University of Miami, ranked 280th in the world and 61st in the US. It is a private university, with a smaller but close-knit student community of around 16,800 students. It teaches across a wide range of subjects, including graduate schools of medicine and law.
San Jose
San Jose is the heart of Silicon Valley, be it from a technological, financial, or cultural point of view. As Northern California's largest city, San Jose offers great educational and recreational opportunities for international students. Apart from ultra-modern tech museums and contemporary art galleries, San Jose is home to historical relics and classical architecture. When you're not studying at one of the world-class colleges that the city has to offer, you can enjoy dining out at their fancy restaurants or catch one of the professional sports teams in action. With a vast number of undergraduate and postgraduate courses that the state offers you to choose from, your options are almost endless.
Texas
Texas is more than just barbecues, country music, and cowboys, with even more to explore while you live and study here. One thing you need to keep in mind is that your experience of Texas will vary wildly depending on which of the top Texan universities you call home for the next few years. The area is likely to fascinate and attract anyone interested in working in the state's thriving and developing energy industry after graduation. Texas has also established itself as a quality source of knowledge in the technology, biomedical sciences, and aerospace sectors respectively.
Since studying abroad is a big decision and requires a lot of preparation and planning opting for study abroad consultants is one of the most convenient options as they completely take care of the procedures and legal work, making the intercontinental transition easier for you. USA education consultants are very reliable as they have years of experience in sending students to achieve their academic goals to other countries without any worries.